Water Systems
Drinking Water Purification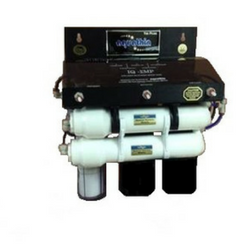 Our drinking water purification system provides three patents that give you 30 stages and levels of protection. It's one of the most effective and efficient water treatment system on the market. The reverse osmosis, deionization process, which includes heavy duty prefiltration, gives you clean water that is salt free, eliminating nitrates, heavy metals, chemicals, pesticides, and microorganisms. It also features a patented memory panel that has an LED self diagnoses of the systems water purification procedures.
Municipal Water Purification 
Our whole house filter uses granular activated carbon to filter out impurities from your water. It features a programmable computer controlled valve which allows service providers to program backflush cycles, which means you have maximum efficiency based on your water usage. This computer is able to store data that it's able to be monitored to determine if the cycle should be altered or if the carbon filter needs replaced.
Hard Water Treatment System 
With a water softener you'll find you can improve your home and lifestyle in a number of ways. From smoother skin, to brighter laundry, even an increased life of your water using appliances. Our system is ideal for all homes because it supplies more water with less pressure drop. It is easily installable and corrosion-resistant. Cycles are fully adjustable so you can set your system up for your exact needs. The tank holds up to 350 pounds of salt and features a reliable brine safety valve that has built-in safeguards which prevent brine tank overflow.
Well Water Treatment System 
If you have stains on your toilets, sinks, bathtubs, or shower stalls, you probably have iron in your water. Our Iron Filter safely remove removes the iron and which keeps your sinks, tubs, and toilets from staining. It eliminates the stain deposits and odors that appear in household plumbing fixtures. Without an iron filter you have to use harsh cleansers that may scratch your expensive porcelain surfaces. And, when you have water that is Iron free water, it prevents the accumulation of iron deposits within water heaters causing them to be less efficient and ultimately requiring replacement.