Electronic Air Purification
Capture the smallest airborne particles with Electronic Air Purification
Electronic air purification uses an electromagnetic field to magnetize the fibers of the disposable filter pad. This creates a "force field" within the ductwork, capturing some of the smallest, most dangerous to breathe submicron airborne particles.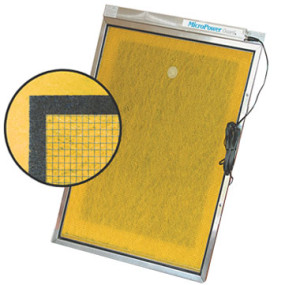 When the air is recycled through our MicroPower Guard filter it will have reduced 97 percent of particles at 0.3 microns.
The 1 inch filter is the most cost effective and easiest to maintain electronic air cleaner available and is an essential component of any Premier air purification system. Each disposable filter pad remains at peak operating efficiency for about four months before needing to be replaced.
These filters have excellent control of large and submicronic particles and allergens. Because of the electrostatically charge, it increases in efficiency as the filter loads. It also improves air flow because of its long strand fiber and porous carbon media. Each filter includes a 24 volt power supply with very low electric consumption.
We offer filters in standard sizes 12″ x 24″ through 25″ x 25″ and in custom sizes to fit your needs. A 24 Volt adaptor is also available. Replacement Media for standard and custom sizes is available in economical 3 Packs.