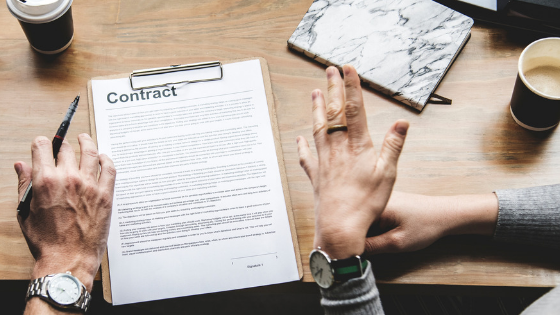 Questions to Ask Before Hiring a Geothermal Contractor
Are you looking to install a geothermal system that will save you more money on your heating and cooling bills?
A geothermal system turns your yard into a power plant and uses the free stored solar energy more efficiently than a costly traditional heating and cooling systems. Our customers have seen up to a 70 percent reduction in heating and cooling costs just by switching.
When geothermal government tax incentives and rebates were given, many traditional heating and cooling contractors tried to take advantage of it. Industry experts often call these contractors "inexperienced" geothermal installers, whose main goal was to capitalize on the trending market. As these types of dealers increased in the industry they created havoc for those reputable contractors that have been installing geothermal many years prior. Unfortunately, those that have fell victim to these 'fly by night' dealers have been swindled, and ultimately ended up paying the price.
You might see a variety of issues, such as:
Low-quality geothermal installations practices that caused mechanical failure, insufficient heating, and higher-than-anticipated energy costs.
Lack of service after the sale, leaving the customer without heating or cooling until they can a credible company to service their machine.
Fortunately, this doesn't have to be the case for you! If you're considering this highly efficient and environmentally-friendly system, there are a couple questions you should ask before choosing your dealer. By doing your due diligence, and asking your dealer the following questions, you will be able to choose an installer who is experienced, knowledgeable, and concerned about your best interests. A credible HVAC company will be able to answer any one of these questions without hesitation and will help you filter out your options.
1. How long has your company been certified to install geothermal systems?
A reputable HVAC company should be well established in the geothermal industry and have documentation to back up their prior installations. Look for a geothermal dealer who has a proven track record and can show you specific examples of their customer installations and how much they are currently saving or spending on their heating and cooling bills.
Even ask your dealer to refer you to past customers and ask them about their experiences with the company, whether they were happy with their system, and if they saw the yearly savings as promised.
2. Does your company offer a warranty on the system and the installation?
Your warranty is an important factor when considering a geothermal company. No system will be perfect, and a warranty may save you in the case there are glitches. While most geothermal manufacturers offer a warranty on their products, it usually only covers the parts that fail but not the labor to service the repair. Each installer should have their own comprehensive warranty and support policy, sometimes based on the system they install to supplement the manufacturer warranty. This is where you can really see the difference between an okay dealer and a great one.
As with any warranty, it's important to understand how long the warranty is in the case of a system failure. In many different industries "lifetime" warranties can be offered, but keep in mind it may not always include the entire life of the product. In cases like these even for the HVAC industry, you will want to verify with the company the actual length of the warranty. While the length of warranty does matter, what really makes a difference is how much the warranty covers. Verify that things like excavating, refrigerant, or the air handler are included in the warranty. The more complete a warranty is the more satisfied you will be.
If not, you may be on the line for the most costly part in a potential repair.
3. Who will be installing the outside ground loop?
Some geothermal dealers subcontract the drilling and trenching of the installation of the outside ground loop to another company. Depending on the subcontractor motives you may experience a subcontractor trying to get the job done quickly, not experienced in drilling certain types of loops, or be less concerned about the overall quality of the installation.
However, not all cases will the use of subcontractors cause negative effects. If the HVAC company is planning on using a subcontractor you will just want to verify that your warranty for the ground loop will not be voided, as well as knowing how many installations have been done before by the subcontracting company, assuring you will be getting a certified and reputable subcontractor.
If possible, hire a dealer who has an in-house installation and drilling team, or subcontracts a driller from the manufacturer. An in-house team will have more incentive to do good work, will know the system better, and you will have the benefit of the company's full service after the sale.
4. Are you familiar with the ground condition in our area?
Depending on your geographic location, drilling conditions may be more or less challenging. Ask if your potential dealer is experienced in drilling in your area and understands the underlying bedrock and what it means for drilling.
Don't be fooled when you hear claims of a new way that is quick and easy. Billion dollar companies have been drilling for hundreds of years investing in the latest technologies to improve efficiency. There is no easy way to drill.
5. What are you using to measure my home for the geothermal system? What resources are you using to measure my home for the geothermal system? Do they have the right equipment efficiently measure your home?
A credible geothermal dealer will have experience and knowledge in sizing a geothermal to each individual home. Just because your neighbor's home and your home are similar in square footage does not mean you will have the same sized system. There are many factors that affect the size of your system.
There are a couple different ways they should measure your residence before they start designing or installing a system. First, the installer should provide your home with an initial energy audit and a manual J & manual d report. This is paramount in correctly sizing the geothermal system and ensures superior performance. The insulation, windows, and doors need to be accurately assessed as well prior to generating an estimate.
If a dealer would install a new Geothermal system without an audit, it will result in higher energy bills, which ultimately leads to fewer savings. But, if you know the home's efficiency you can improve it, and accurately size the system to heat and cool your home with fewer run times. By reducing the systems runtimes, you can lower the cost of energy needed to heat and cool the house. A well-designed Geothermal system will provide cost-effective comfort for generations to come
6. Where is heat being lost in my home? What requirements are you measuring my house by?
One of the main reasons people choose geothermal energy is because of the tremendous savings. However, some of the 'fly by night' dealers design the system to simply cover the traditional heating and cooling system requirements. This will affect the amount of savings you receive because it's not being sized to the specifications of the right system, Geothermal.
A good dealer will recommend ways for you to get the most efficient geothermal system by showing you areas where you are losing heat in your home for instance through your insulation, windows, and doors. Once this is done, by giving you these recommendations to you they are easily able to then prepare you an energy audit and design a geothermal unit that will help you save money on your heating and cooling bill.
Quick Note about Installation Costs:
It's recommended that you obtain at least three quotes for any home service project, and your geothermal system shouldn't be any different. Ask for an itemized quote from each company. But be wary to choose the cheapest one right away. Often those disreputable companies will deliver the lowest price but give you a less than satisfying product. If one of your three quotes is significantly cheaper, this should raise a red flag about the quality of craftsmanship of the company.
---
Want to know how much you could save? Check out our cost savings page to see how much on average you could save with geothermal.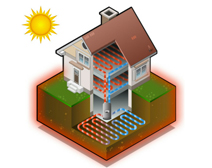 Geothermal Resource Center
Want to learn more about Geothermal energy and how it works? Our resource center has all the information you need!
Visit the resource center