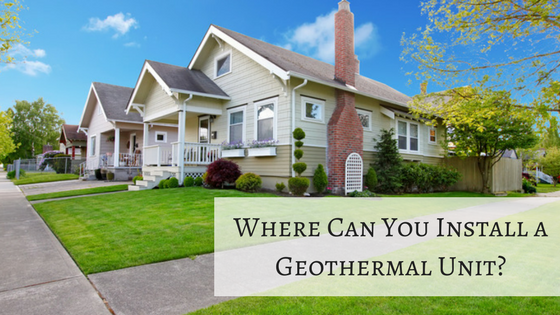 Where Can You Install a Geothermal Unit & System?
What is the difference between a Geothermal Unit and a Geothermal System?
The Geothermal Unit is the mastermind of the entire system. It houses all of the mechanical parts necessary to run the system properly in your home and can be installed with a closed or open loop system. The Geothermal System includes everything else like the ductwork, electrical supply, ground loop, and ground loop fluid that is placed underground. Together, they can be used to replace a highly inefficient existing heating and cooling system such as a gas furnace, electric heater, and air conditioner.
Where do you install a Geothermal Unit?
Most geothermal units are located indoors, in places like your utility room, garage, or basement. The noise normally associated with outdoor systems (condensers) are eliminated creating a quiet atmosphere that is perfect to install in the home. This also keeps the unit away from any kind of wear and tear from the weather, and frees up your outdoor space for architectural design and landscape.
Where do you install a Geothermal System?
A geothermal system can be installed almost anywhere. Each type of geothermal system has different specifications that it requires. A horizontal ground loop geothermal requires a larger yard than a vertical ground loop system. The vertical ground loop system only requires a 3 ft area, and then the ability to connect the system back to the indoor unit. This is a perfect option for either rural or urban areas.
Because geothermal is a specialized system, you want to use certified and experienced installers to be sure you are able to get the best usage out of your new system. The best way to find a qualified installer is to do your research ahead of time to find out the contractor's credibility and how many systems they have installed. You can also contact, the International Ground Source Heat Pump Association, or the Geothermal Heat Pump Consortium for a listing of qualified installers in your area. Ask for references from the company and even speak with other system owners that have used geothermal for several years. They will be able to answer questions about longevity and tips that they may have for you.
Find our IGSHPA Certification HERE.
Please do not hesitate to contact us with any questions you might have. We will be more than happy to answer them, and help you find the perfect solution to all your heating and cooling needs.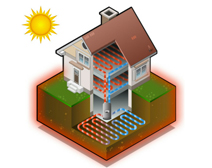 Geothermal Resource Center
Want to learn more about Geothermal energy and how it works? Our resource center has all the information you need!
Visit the resource center