Waterless Geothermal

The waterless geothermal system has been proven to be a more efficient system that allows you the maximum return on your investment. It has been a favorite of homeowners for more than 25 years.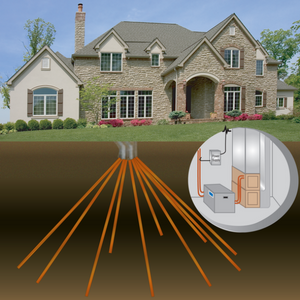 A "DX" Waterless Geothermal Heating & Cooling is much simpler, and is more efficient than a traditional water geothermal design. The Waterless Geothermal System is considered the most advanced geothermal design available because it does not use water or a plastic ground loop. Instead a Waterless Geothermal uses refrigerant and a ground loop made of copper tubing. Using copper for the ground loop as opposed to plastic tubing, typically used in a traditional geothermal loop, creates a more efficient ground loop heat exchanger.
With a Waterless Geo design you avoid having to tear up your whole yard. It only requires a 3 foot circle and small trench for the installation of the copper ground loop. The copper loop also comes complete with a lifetime warranty.
A Waterless Geothermal is a type of "Direct Exchange" or DX Geothermal system, which refers to the heat exchange process. A Direct Exchange occurs when heat from the ground is directly transferred into the refrigerant circulating through buried copper tubing. That same fluid (refrigerant) containing the heat from the ground, circulates through a heat exchanger inside your home transferring the heat directly to the air in your home.
Utilizing the combination of copper & refrigerant for the ground loop heat exchanger allows for a much greater efficiency to be achieved.
While this direct exchange process utilizes only 1 system fluid; environmentally friendly refrigerant, a traditional water geothermal design requires 3 fluids: water, antifreeze, and refrigerant. Refrigerant is often referred to as "Freon."
Since the Waterless system only requires refrigerant, it can eliminate the use of a secondary heat exchanger along with many other system components. You'll have security and peace of mind knowing you'll never have to repair the system due to water related problems of a traditional geothermal design. Better yet the simplicity of a Waterless Geo system combined with an unsurpassed reliability and longevity, will provide you with comfort and savings for years to come.
Nothing new about it
The obvious efficiency advantages of a (DX) Waterless Geo design was recognized early on by industry professionals as the first DX geothermal system was installed in 1945 by Robert Webber in Indianapolis, Indiana.
The Waterless Geothermal design has been proven to be a more efficient system and can produce 4-5 times more energy than it consumes. For example a Waterless Geothermal can heat and cool a 2,100 square foot home for as little as $29 a month!
To read more about the features of a Waterless Geothermal Design click here.
---